---
USA West 1999 - Sequoia NP
Sequoia NP is really very nice. We accessed Sequoia NP from Visalia, where you drive 60 miles on a winding street to the park entrance.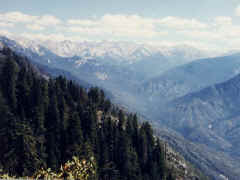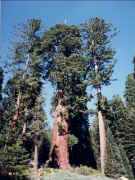 On the picture you can see the beautiful view from Morro Rock to the Sierra Nevada north with its high mountains. Last but not least, Sequoia NP is famous for its giant tree's ... called Sequoia's.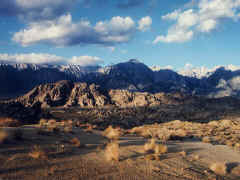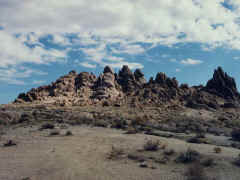 The day after we continued our trip to Lone Pine to access Sequoia NP from the east. There you find the Alabama Hills, which is a great scenery for western movies. Up from there you reach the Mount Whitney Portal. There is a base camp for starting a trail up to Mt. Whitney, which is with 14'494 ft the highest elevation in California.

If you like dining in a hospitable atmosphere, excellent prepared meals and served with love, you should visit Margie's Merry Go Round restaurant in Lone Pine. Don't forget to make a reservation.
---