---
Australia 1997 - Miscellaneous
Here I want to show you some other nice pics...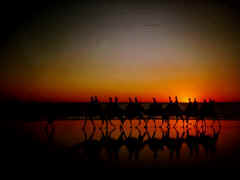 At Broome we made our second camel ride. This was an excellent sunset tour on the cable beach. We recommend you to try it, if you don't get seasik. You have a nice view, when your're sitting on the back of a 'ship of the desert'...
Broome is a very humid place. Specially after sunset you get moist and sticky even if you don't move.
We also visited the pearl farm, which was impressive to hear about the developing of natural saltwater pearls.
If you move into this tropical zone, take care of the frogs in the toilets, they may shock you by jumping out of the toilet seat after flusing...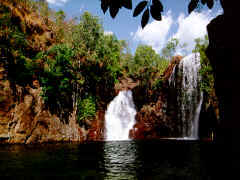 In Litchfiled NP you find a lot of wood with some very nice waterfalls and pools. Take care of the crocks when you swim in the pools.
On the park entrance there are magnetic termite mouds and cathedral termites with their giant buildings, higher than five meters.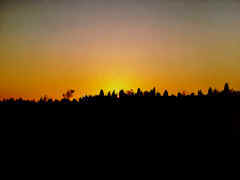 On Nambung NP you can visit the Pinnacles. The flat sandy desert is punctured with peculiar limestone pillars, some only a few cm high, others towering up to five meters.
---